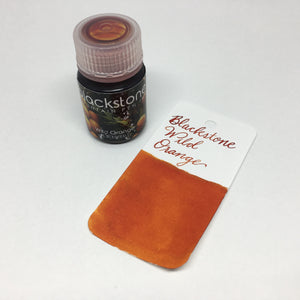 Blackstone Wild Orange Scented Bottled Ink 30ml
Sale price Price $12.00 Regular price $0.00 Unit price / per
30ml ink bottle of Blackstone "Wild Orange" ink for fountain pens.
A juicy, golden orange, this ink has a sweet, fresh scent with a lighter saturation that shows some shading.
The wild orange has a sweet, fresh, orange scent but is not related to oranges or citrus, nor to the Wild Orange (Osange Orange) of the USA. It is actually a member of the Caper family. The Wild Orange is widely distributed throughout Australia and is a well known 'Bush Tucker' food. It starts life as a rambling vine and grows into a tree up to 6m in height.
Part of the Scents of Australia collection, these inks are imported from the JustWrite Pen Company in Australia.