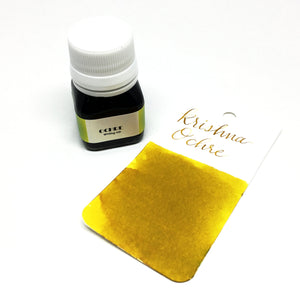 Krishna Kot Massi Ochre Iron Gall Bottled Ink 20ml
Sale price Price $8.00 Regular price Unit price / per
20ml ink bottle of Krishna "Ochre" yellow iron gall ink for fountain pens.
Ochre is part of the Kot Massi line of Krishna inks, which have varying degrees of iron gall formulation. Ochre is safe for use with fountain pens and has a higher degree of water resistance. It also tends to shift color from when it dries on paper. Ochre's true color is hard to pin. When wet, it tends to show reds, browns, and greens. As it dries, the color mellows to a golden, greenish-yellow.
All Krishna Ink bottles are directly imported from India. Each bottle contains 20ml of ink handcrafted by Dr. Sreekumar.
As with all iron gall fountain pen inks, we recommend observing proper pen maintenance. To ensure optimal pen performance, clean out your pen regularly (every 3 weeks) and remove all trace of the ink before loading it with a new ink.