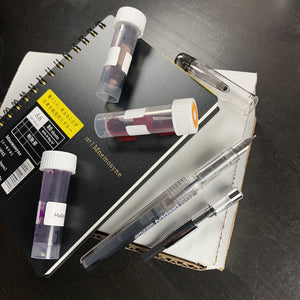 Starter fountain pen set with ink and notebook
Sale price Price $30.00 Regular price $30.00 Unit price / per
Venture into the exciting world of fountain pens with this quality pen, ink, and paper set. Perfect for students or those looking to get into fountain pens, this box has everything an aspiring writer needs to get started.

First, there's the pen - The Platinum Preppy is a tried & true fountain pen that is easy to use and will get the job done. Made in Japan, the steel nibs write admirably for an inexpensive pen. The novice user can get the full experience of writing with a fountain pen, from using the included black ink cartridge to refilling it using the included Platinum converter.
It's a thrill to fill a fountain pen with the near-limitless variety of bottled ink colors available today. So, this starter set includes a converter and three (3) 2ml ink samples selected from previous Ink Flights. As far as the ink colors are concerned, our team randomly selects ink colors from our available stash of samples. Ink colors may vary and we do not accept requests for particular colors.  
Bring it all together with Maruman's quality paper. This A6-sized, wire-bound notebook contains 80 sheets of smooth 80gsm, fountain-pen-friendly paper made in Japan. Write lists, to-do's, or daily journal entries using your inked-up fountain pen.
What's included in this box:
(1) Platinum Preppy fountain pen, medium nib (05), includes a black ink cartridge
(1) Platinum standard silver converter
(1) Maruman Mnemosyne A6 wire-bound notebook
(3) 2ml random ink samples from previous Ink Flights
Quick start instruction guide on how to fill the pen.
*Please note that the ink sample colors will be randomly selected and the images on this listing are not indicative of the colors you will receive.