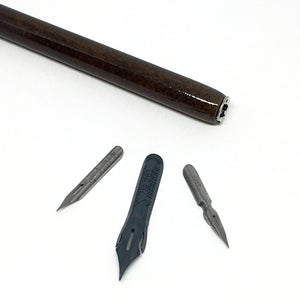 Brause Calligraphy Dip Pen Nib Holder + 3 Flex Nibs
Sale price Price $12.00 Regular price Unit price / per
A dip pen is a hassle free method of being able to sample a large number of inks without having to do a complete clean-out of your fountain pen. See, when filling your fountain pen to test an ink, even if you only dip it in the ink, the capillary action of the feed will make it difficult to completely rinse the ink out of your fountain pen in order to go on to the next ink. The dip nib, on the other hand, does not have a feed and is much easier to clean out between inkings.
The natural wood of the Brause straight handle dip nib holder has a great feel and is simple to install the selection of 3 Brause dip pen nibs that come along with this set. Simply friction, fit the nib into the holder using the metal prongs that are in the holder opening, and you've got yourself a flexy writing instrument.
Feel yourself get transported into the good old days when quill and dip pens were the way of life. Keep your inks handy by your writing table, because you will probably have to keep dipping your nib after a few words of writing. The selection of nibs that come with this set are flexible and respond to slight finger pressure to spread the tines. Each nib varies in its ability to create swells of ink on the page. Play with line variation and practice your calligraphy while you sample all the fountain pen inks to your heart's desire.
This set includes:
(1) Brause straight-handle wooden dip nib holder (wood color is subject to inventory availability and may be selected at random)
(3) Brause Dip Nibs including the B361 Steno "Blue Pumpkin" nib, the B66 Extra Fine Arrow Drawing Nib and the B511 Medium Drawing Nib.