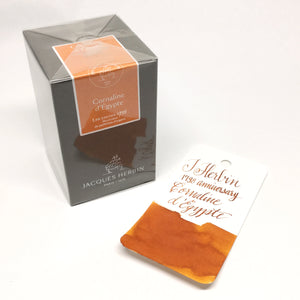 J Herbin 1798 Anniversary Cornaline d'Egypte Orange Shimmer Bottled Ink 50ml
Sale price Price $28.00 Regular price Unit price / per
50ml ink bottle of J Herbin Cornaline d'Egypte (1798 Anniversary) Orange Shimmer fountain pen ink. Made in France.
Each year, J. Herbin (or Jacques Herbin) introduces a new "Anniversary" ink that has a saturated hue with shimmer. 2018's Cornaline d'Egypte has a warm, golden orange color that shades to a tan brown. Silver shimmer glitters as you lay down a wet line of ink using broader nibs.
Usage guidance (from the Herbin packaging): This ink is for pens. Never mix this ink with another. Before filling ink pot or fountain pen, rinse thoroughly. Shake the bottle well before filling the writing instrument for best results. If your pen is inactive for a period of time, we recommend to empty and clean it.