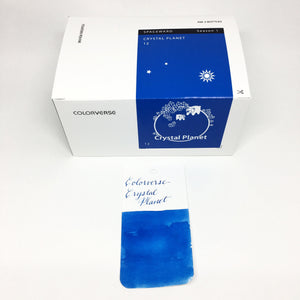 Colorverse Crystal Planet Blue Bottled Ink 65ml + 15ml
Sale price Price $33.00 Regular price $36.00 Unit price / per
2 bottle set of Crystal Planet Colorverse fountain pen Ink in the 65mL & 15mL sizes. This color is part of the Spaceward (Season 1) line of inks.
A clearly beautiful, azure blue ink that shades nicely with a hint of sheen. This is like a dialed back version of Supernova in terms of saturation and sheen. 
PH: 8.4, Surface Tension: 53.0 
Colorverse ink is made with high purity raw materials mixed via state of the art technology. Each of the various colors will captivate with its ethereal beauty and intensity. The carefully optimized PH design will guarantee high-quality performance in your pen and long-term shelf life.
Made in South Korea.