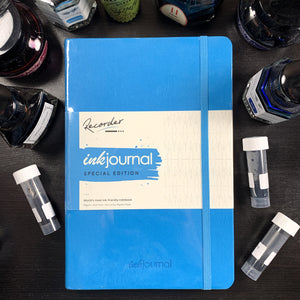 Endless Recorder InkJournal Special Edition A5 Notebook
Sale price Price $27.00 Regular price Unit price / per
Record your journey through the world of fountain pens and inks in one beautifully detailed notebook.
As the number of gorgeous fountain pens and inks around the world continues to grow, true pen enthusiasts and aficionados need a smart way to keep track of their favorites.
Capture the seemingly endless number of fountain pen inks with the Endless Recorder InkJournal Special Edition.
This notebook has everything you need to keep track of all your pens and inks...and do it in style!
From the bright blue hardcover debossed with the InkJournal logo to the nib pattern endpapers - this notebook is dedicated to the lifelong fountain pen user. Record swabs in the ink-dex, write 1-page ink reviews and participate in our #30inks30days handwriting challenges on social media.
InkJournal collaborated with Endless Works to bring you a notebook that is ready to handle your wet, sheeny, and shimmery inks and nibs of all sizes. The Regalia 80gsm paper is up to the task with no bleed-through and minimal ghosting on the underside of the page.
Endless Recorder, InkJournal Special Edition Specifications:
A5-ish Size (8.3" x 5.5" / 211mm x 139.7mm)
192 Pages of 80gsm acid-free Regalia Paper - excellent for fountain pen inks and nibs of all sizes.
Includes an ink-dex for cataloging ink swatches
Record 140 pen and ink combinations using the single-page review sheets

Participate in #30inks30days handwriting challenges using the square grid format pages in the back.
Leatherette Hardcover debossed with InkJournal & Endless logos.
Expanding Inner Pocket for storing swatch cards and chromatography strips
Elastic band closure
2 Page Ribbon Bookmarks