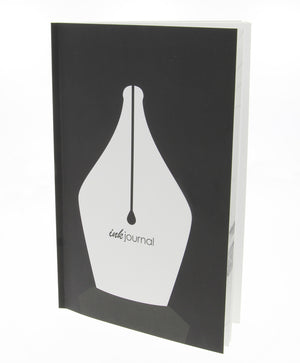 InkJournal Black Notebook for Pen Collectors
Sale price Price $16.00 Regular price $16.00 Unit price / per
A fine fountain pen enthusiast deserves an elegant solution to cataloging the near-endless combination of pen & inks that are available to explore.
If you're a certified fountain pen geek, the InkJournal Black is your notebook for cataloging pens & inks. Building upon the success of the original pocket notebook for journaling your everyday carry, currently inked lineups, weekly load-outs, and inky matchups, this high-quality notebook captures your fountain pen enthusiasm.
This 8.5" x 5.5" paperback-style notebook contains 80 pages of 80# smooth text stock paper that your nib will glide across. Catalog 38 different pen & ink entries with plenty of space for water drop tests, ink swabs, scribbles, comments, and notes. The matte textured black and white cover add a feel of luxury that will make this book irresistible to keep in your everyday carry.
Book Specifications
80 page paperback, 8.5" x 5.5" size
80# text fountain pen-loving paper
Matte finish cover
Printed in the USA
The InkJournal Design
2 page spread InkJournal form catalogs your pen and ink entries.
Includes areas to rate common writing traits like flow, saturation, drying time, shading and water resistance.
Plenty of space to freestyle and write out comments to further describe the ink properties.
Area for comparing other similar pen & ink combos versus the one that is being reviewed.