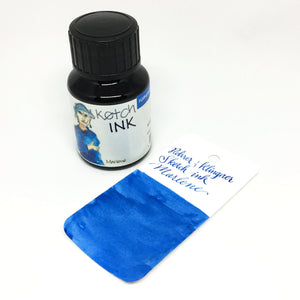 Rohrer & Klingner Sketch Ink "Marlene" Blue Bottled Ink 50ml
Sale price Price $13.00 Regular price Unit price / per
50ml ink bottle of Rohrer & Klingner Sketch Ink "Marlene" pigmented ink for fountain pens.
This medium-toned, bright blue ink is part of Rohrer & Klingner's Sketch Ink collection formulated for artists that write and sketch using fountain pens. The nano-pigmented inks are water resistant, but safe to use in your fountain pens.
We recommend care and routine maintenance of your pen that is inked with "Sketch Ink" or any pigmented ink. Make sure to completely clean out your pen after using this ink and do not let it sit with ink for longer than 3 weeks.
To maintain optimal performance of your fountain pen, Rohrer & Klingner recommends using the Reiniger pen cleaning solution.