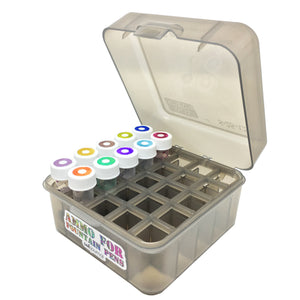 Ink Sample Box Set with 10 Assorted Samples
Sale price Price $17.50 Regular price $0.00 Unit price / per
Kickstart your ink sample library with this colorful starter set of fountain pen ink samples. A vibrant selection of 10 ink samples (2ml each) is contained within a convenient ink sample storage box. The assorted ink colors are picked from previous Ink Flights. Each ink is identified by a label on the body of the tube. You can find more about each color from the Ink Flight reveal posts on our blog.
*Please note that if you order two or more boxes, the sample selection may contain duplicate color choices.
Catalog and organize your inks using the included ring sticker sheet. Please note that the ink vials do not come color coded as you see in the photo. You can do it yourself using the included stickers.
This MTM shotshell box has been "repurposed" to provide ink enthusiasts with a case that fits up to 25 ink samples in the conventional ink sample vial size. Made in the USA, this case comes with a 5-year warranty. Use the included "Ammo for Fountain Pens" vinyl sticker to decorate the box as you see fit. 
The Ink Sample Box Set includes:
MTM Case Gard 25-round shotshell case
10 - 2ml ink samples in screw-top vials. Assorted colors from previous Ink Flights
"Ammo for Fountain Pens" vinyl sticker
Ring stickers to color code the tops of vials