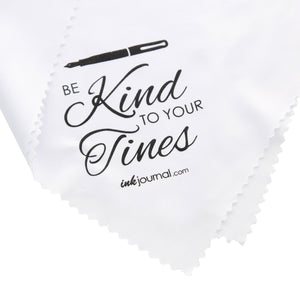 Be Kind... Microfiber Cleaning Cloth
Sale price Price $3.00 Regular price $0.00 Unit price / per
Anyone that lived through the era of VHS and video rental stores knows the old phrase, "Be Kind, Rewind." Kids these days have no idea...
It takes an old-school state-of-mind to truly appreciate the treasure that fountain pens are. It doesn't necessarily mean you have to be older to love fountain pens, but you have understand that a good fountain pen isn't merely some object that gets replaced every 2 years like most technology.
You have to care for your pens and put in some TLC to keep them functioning at full capacity. No software updates, no scheduled obsolescence. Just be kind to your tines and they will be kind back to you for a long, long time.
This 100% microfiber cloth can be your ink rag, place to try your nibs after rinsing, or a buffer to remove those unsightly fingerprints from metal finishes. Each white cloth is printed with our InkJournal logo, along with the "Be Kind to your Tines" design in black. The texture of the cloth is soft enough for the most delicate of pens. The imprint reminds you of the love that goes into owning and using a fine writing instrument.
Specifications
8" x 8" White, High Density, Microfiber Cloth
Fabric does not scratch and is gentle on your nibs.
Use to clean or dry your fountain pen nibs / parts.