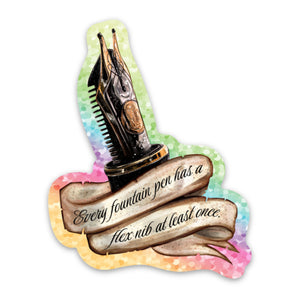 Every Nib is a Flex Nib Once Sticker
Sale price Price $3.00 Regular price Unit price / per
Illustrated by Brazilian artist and fountain pen enthusiast Thales Medeiros (@untaughrod on Instagram), this sticker communicates the unfortunate fact that, while not all nibs are flex nibs, they can be flexed, even if only once. Be kind to your tines, people! Don't splay your nib like the one Thales illustrated for this sticker design.

This bit of pen "flair" is perfect to put on the front of your notebook, on a mug, car, pen case, or anywhere else a sticker can go. 
Specifications
2.35″ × 3″ Die-Cut Sticker
Made of Thick Vinyl with UV Laminate
The background is a holographic glitter pattern (but, without the glitter dust)
Dishwasher Safe, it will hold up to many, many washings.