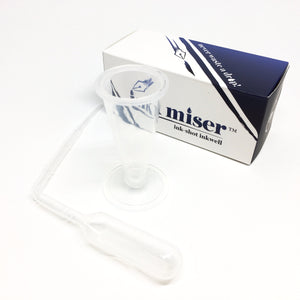 Ink Miser Ink Shot Inkwell
Sale price Price $6.00 Regular price Unit price / per
You know that expression, "good till the last drop?" Well, most ink bottles don't allow the writer to get to the last drop of ink. For some ink bottles, it's downright impossible to even fill your pen when the bottle is only half-empty (or half-full if you're an optimist). Enter the Ink Miser, a simple tool to enjoy the last bit of ink, or to mix your own creation!
The Ink Shot looks like an hourglass that is missing the bottom half. This clear plastic cone is where you can pour your ink to serve as a filling station for your thirsty nib. The base is stable enough that you can leave your pen there without it falling over (see our included picture). The included pipette allows you to transfer ink from vials or bottles into the Ink Shot ink well. Since it is fountain pen ink we're dealing with here, you can rinse everything off right after filling without any fuss.
You can also use the Ink Shot Inkwell to mix inks from brands like Platinum Mix Free or Sailor Storia inks. These types of inks are formulated to be mixed together. Mix others at your own risk! The inkwell affords you a safe container where you can craft your inky brew, then have your pen drink from it.