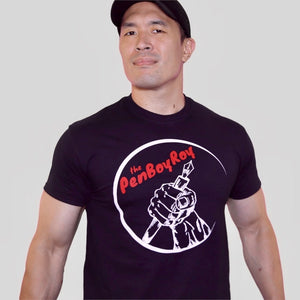 PenBoyRoy Official T-Shirt - Black
Sale price Price $24.99 Regular price $24.99 Unit price / per
Neutral Zone - things about the shirt that are good or bad depending on (snap) you.
The PenBoyRoy official YouTube channel merch t-shirt is made from 100% pre-shrunk cotton, is black, and available in 4 different sizes - extra-fine, I mean, Small, Medium, Large, and Extra-Large. The PenBoyRoy logo is screen printed on the front of the shirt in white and red. 
The Good - things about this shirt that are... good.
 This amazing shirt has the handsome PBR logo. It makes your keto physique looks trim and muscular. It also makes ordinary people, like Tom, look healthy and fit.
The Bad - let's talk coin!
The shirt costs $24.99 - that's like one tenth the cost of the cheapest Pineider pen by Double Dee Vee. Plus, you get free shipping within the USA, which is great because the US post office needs all the money it can get. 
The Ugly - elements of the shirt that should not be, but are!
Nothing bad to say here. This shirt will turn the ugly into the beautiful. 
High Noon - Decision-making time! Should you or should you not pull the trigger on the PenBoyRoy official YouTube channel shirt?
YES. Pull the trigger right away. Buy a shirt for yourself and all your friends and family that enjoy fountain pens. They will thank you. 
The first time around, wash this shirt inside out to protect the screen printing. This t-shirt feels softer with every wash after!